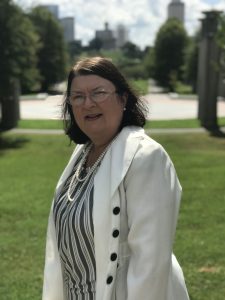 Irene Haude has been licensed to practice law in Tennessee since 1986.  She is an Equitus member, who came to Equitus in 2014.  In her role as a lawyer, she hopes to help a client understand the client's objective and to help client design a road map to meeting that objective.  If reaching the objective involves conflict resolution, then Irene has several tools available to resolve conflict.  These tools include litigation, arbitration, mediation, and appeals of adverse decisions.
Irene's practice focuses on civil litigation, with an emphasis on family law matters.  She also has litigated extensively in the employment law and personal injury law areas.  Irene focused on litigation because it allowed her to be involved in many areas of practice in a legal environment where increased specialization is occurring.  She enjoys the diversity of litigation.  Enjoying both the court room and the alternatives to it, she also is a listed Rule 31 civil and family mediator. She is trained to mediate domestic violence cases and offers flat fee mediation services both at her office and at the offices of other attorneys.
Having litigated domestic matters for many years, Irene is keenly aware that family law cases often require a different litigation approach than those cases in which the adversaries will not have to interact with each other after the conclusion of the case.  Thus, she is able to adjust her litigation strategy to the long term needs of the client and to offer alternatives to litigation, when appropriate.  She understands the special role that children find themselves in when their parents separate and/or litigate.  She also understands the concerns their parents have to protect them from adult decisions.  Irene's experience allows her to take these parental concerns into consideration as the parent's case evolves.  Finally, Irene understands that not every case can be resolved without trial. If your case needs to go to trial, Irene will be happy to present it to a judge or jury.  If your case needs to be appealed, she will appeal it.